We provide videos, books and other web sites to help you understand both God's word and the science related to creation and evolution. We don't want anything standing between you and these valuable resources, so they are all available online free. (Books are also available on Amazon.)
WEB SITES
---
We have four other web sites, in addition to the one you are currently visiting, related to the Dinosaur Tracker Museum:
The Science Pastor - This web site is an information source when you need to learn about creation or evolution. The Science Pastor site provides directors to online articles, all arranged by topic. It provides directories to hundreds of creation and Bible related videos, with the links arranged by topic. And it provides videos we have created, for example over 100 short videos (30 SECONDS) that are designed to be conversation starters. All of these videos have a button you can use to download the video for use in a Sunday school class, Bible study, or to discuss with friends.
Dinosaurs For Jesus - We love dinosaurs and having fun with dinosaurs. On this web site dinosaurs speak in the first person to tell people about themselves, the people they lived with, the Great Flood, and most importantly they love telling people about Jesus.
911 Christ - When asked, most people will say they are a good person... at least good enough to get into heaven. This web site has the Good Person Test to see if you really are good. And the answer is, based on God's standards and definition of good, no you are not a good person. That means you are heading for the lake of fire (Revelation 21:8) and there is only one way to avoid it. Jesus Christ.
The Answer is Always Jesus - This website provides the fundamentals of Christianity, answering questions such as: What is love? What is truth? And how should Christians respond to poverty and injustice? Learn why Jesus is always the right answer to the problems we face.
Move To Assurance - The Dinosaur Tracker Museum is a ministry of Move to Assurance (MTA). MTA's stated purpose is to preach the gospel and tell people about Jesus wherever people gather. For 20 years MTA has been spreading the gospel and the truth about creation around the world using dinosaurs and fossils.
VIDEOS
---
Our Science Pastor web site provides over 100 short 30 SECOND VIDEOS covering creation, Bible, and discernment topics. You can't say much in 30 seconds, but these videos will stimulate conversations. Each video has an associated web page that provides more information and links to other web sites that have even more in-depth information. And if you'd like to use any of these videos in a class or Bible study, a download button is provided so you can easily download an MP4 copy.
The Science Pastor web site also has a series of VideoBlog videos that go deeper than the 30 second videos.
And the Science Pastor web site provides links to hundreds of videos made by ministries such as Got Questions, Answers In Genesis, Creation Ministries International, ORIGINS, Discovery Science, ICR and others. Arranged by topic, and categorized to help you find the information you need, the Science Pastor directory to online videos is a valuable resource.
BOOKS
---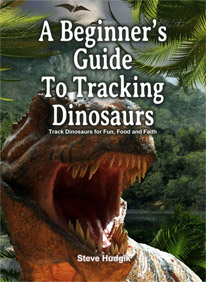 Download FREE dinosaur books. Printed versions of these books are available on Amazon. Tap the book title (link) to go to a page with more information about the book, as well as links for downloading a PDF or ordering on Amazon.
Jessup the Dinosaur: The Search - Based on a true story. Jessup needs to find another dinosaur that is like him, but different, so he can get on the big boat. The warning has been sounded. The world is coming to an end. Can you help Jessup find another T-Rex dinosaur like him, yet different? (Children's book - ages baby through 5 years).


A Beginner's Guide to Tracking Dinosaurs - This is the companion book that goes with the museum. This book documents what you see in the museum (so you don't need to take notes). Starting with learning you about dinosaur tracks and eggs, it then shows that the Biblical Global Flood was real and the only way to be saved was to go through the door of the ark. Most importantly, it shows that right NOW the only way to be saved is through Jesus Christ.


---
The Science Pastor web site also provides information about other books by our museum director. Printed versions of these books are available on Amazon. Here's a list, with links to the page where each book can be ordered on Amazon or downloaded as free PDF or MOBI file.
Jessup the Dinosaur Bible Activity Book - KIds love Jessup, the friendly young T-Rex dinosaur and now Jessup has his own Bible Activity book filled with games, mazes, puzzles, coloring pages, memory verses and more. The activities are suitable for boys and girls in first through fourth grade.


ANSWERS to 180 Humanist Accusations Against the Bible - Volume One - This is volume one of a two volume set that answers every humanist accusation against the Bible as presented on the American Humanist web site. This volume covers errors in the Bible, contradictions, and God's cruelty


ANSWERS to 180 Humanist Accusations Against the Bible - Volume Two - This is volume two of a two volume set that answers every humanist accusation against the Bible as presented on the American Humanist web site. This volume covers Biblical "errors" in science, prophecy and history.


Mrs. Bartlett and Her Class - A true story about an amazing woman. Mrs. Bartlett attended Charles Spurgeon's church. She was a prayer warrier and evangelist who led many to Christ.


The Presence of God - A commentary on Esther. But not your ordinary commentary. This is a nail-biting story in which the fate of the world hangs in the balance.


Happy Are The... -A commentary on the Beatitudes. Jesus reveals how you can be blessed through the gospel.


RUN! It's Jesus Calling - One of the most dangerous books on Christian selves is the Jesus Calling devotional. Find out why you should throw away this false devotional.


Sarah Young's Jesus Always Exposed! - The sequel to Jesus Calling is a devotion called Jesus Always... another book that teachs New Age mysticism that all Christians (and non-Christians) should avoid.


Yale President Timothy Dwight - A Biography - An extraordinary man, blind for most of his life, who changed lives of young men in New England and throughout early America.