Take The Tour
Tour the museum online to learn about tracking dinosaurs, evidence for a global flood, and how you can be saved just as Noah and his family were saved from the flood.
Start Tour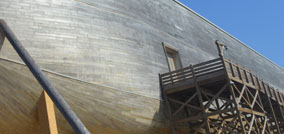 The Door and God's Wrath
4,500 years ago God looked at a wicked and evil world. He partially withdrew HIs restraint on the effects of sin and the world was destroyed by a flood.
Learn More
Resources
We provide a number of resources that are available FREE online. These include specialized web sites, videos, and books.
Learn More
---
---
This is the web site for the Dinosaur Tracker Museum (An Origins Science Museum), a museum planned for the Oregon North Coast. We have been slowed down in finding a location by COVID, however our exhibits are ready to go. This web site has a complete online tour of the museum, showing how we go from fossil dinosaur footprints to salvation through faith alone in Jesus Christ alone.
Many of the photographs in the online tour show fossils and portions of exhibits that will be in the museum. We are now in the process of adding more photos of the fossils we have in the museum. The "In the Museum" buttons take you to these pages, without causing you to miss anything on the tour.
LOCATION: Our final step is to find a suitable location near Cannon Beach or Seaside (Oregon). Our goal is to create a destination that is attractive to tourists, as well as local people. As you can see from the online tour, we teach both Biblical truth and scientific truth, and show how there is no conflict between science and the Bible... and that both of those truths point to the reality of sin, the cross, and salvation through Jesus Christ.
We currently have needs in several areas:
Prayer: Please lift us up in your prayers, that our focus will always be on Jesus and the gospel.
Location: Please also be praying that we'll be able to find a location for the museum. To have sufficient room for both the exhibits and classrooms (teaching and kids' activities) we'll need about 2000 sq. feet. However, we can fit into less space and have set up a mobile version of the museum in as little as 500 sq. feet. We prefer a location that would be attractive to both local people and tourists coming to the Oregon North Coast, such as a location close to Cannon Beach or Seaside, but we know that whatever the Lord provides will be the perfect location.
Donations: We are particularly interested in donations of fossils and local artifacts. Financially we are trying to build up our savings such that we have the first two year's of rent in the bank. In addition, although we have all of the exhibit materials and signage, we still need display cases, lighting, cabinets, tables, etc. We've been holding off on purchasing those until we have a place to put them. Our financial needs are for renting the space and purchasing furnishings (display cases, etc.).
Volunteers: We will need volunteers to help staff the museum. Before COVID, we were moving ahead with starting a creation science group on the Oregon North Coast that would meet once a month for a presentation and discussion, and to share experiences and ideas. As the COVID restrictions are lifted we hope to get that group started.
Go to our SUPPORT PAGE or go to our CONTACT US page.